Padel courts: benefits, construction and installation
Padel is a widespread sport across the world finding strong growth in Italy but also abroad, especially in the US. ​Installing a padel court can be a great investment for managers and owners of a sports center. Discover all the benefits of converting to Padel, as well as all the services Italgreen can offer you for designing, building and installing turn-keys of padel courts, with an exclusive patent that minimizes maintenance costs.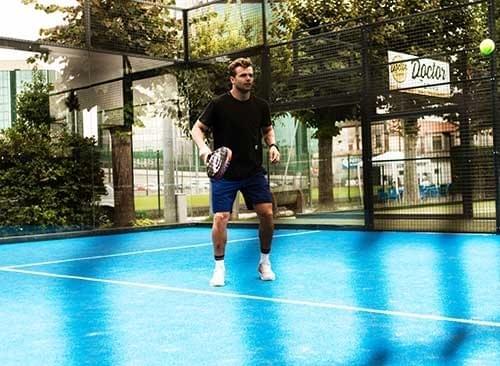 WHAT YOU'LL FIND ON THIS PAGE:
Padel is a friendly and familiar sport, indicated to people of all ages as it does not require special physical or sporting skills. Being a simplified version of tennis is easy to learn and is easily practiced after a few exchanges: fun is guaranteed between friends, in the family, at any age and without necessarily being champions!
For all these reasons, the popularity of the padel is exploding. But above all, this sport has numerous economic advantages that make the installation of a padel court very convenient!
Let's go into detail.
PADEL COURT CONSTRUCTION: INFO AND BENEFITS
The cost of a padel court is quite low and the small size allows it to be built nearly everywhere. Suffice it to say that in the area of a tennis court you can build two to three padel courts.
This allows you to take advantages of the construction of padel courts:
1. Increase in people using the sports center
2. Differentiation of the proposed offer by becoming a more receptive location
3. Optimization of unused space
4. Chance to extend courses for tennis instructors
5. Represent an alternative and is compatible with tennis
Italgreen is a leader in the supply of artificial turf and in recent years, thanks to collaboration with specialized partners, has specialized in padel courts construction: from design to installation.
Do you want more information about padel courts construction and their benefits?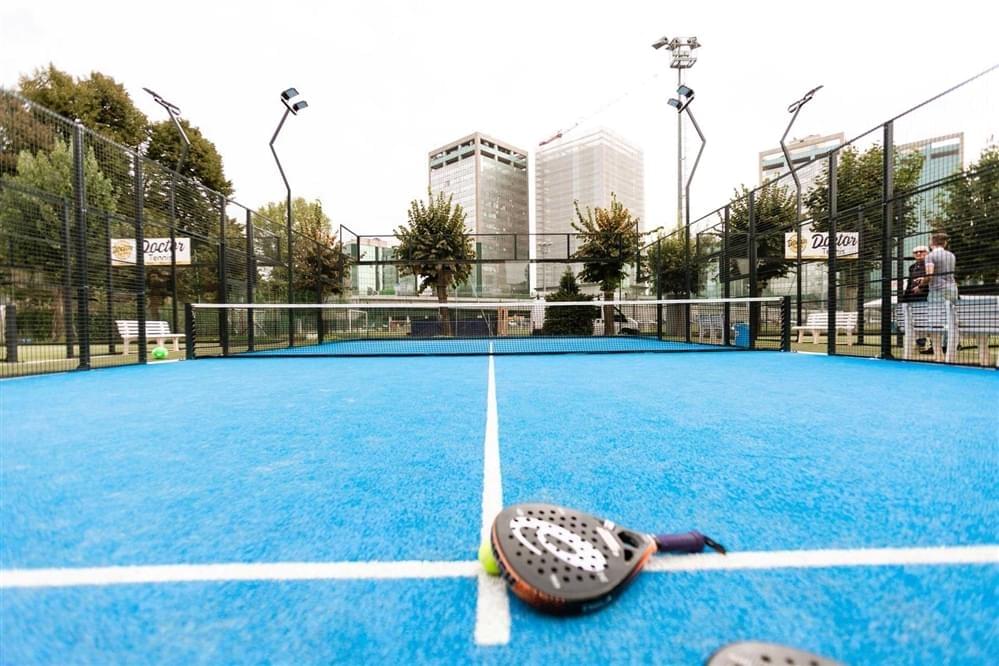 WHAT TO CONSIDER WHEN DESIGNING A PADEL COURT
A good padel court design requires careful consideration of various crucial elements to ensure a top-notch playing experience for enthusiasts. When embarking on the journey of creating a padel court, there are essential factors to keep in mind:
Court Dimensions and Layout - ensure the court adheres to standard regulations, providing ample playing space for competitive matches
Surface Materials - choose the right materials to optimize ball bounce and player movement, enhancing the overall playing experience
Fencing - select fencing that offers both safety and visibility, maintaining an engaging atmosphere while ensuring players' security.
Lighting - install adequate lighting to enable uninterrupted gameplay during low-light conditions, extending playing hours.
Eco-friendly Features - incorporate sustainable elements in the design to promote environmental consciousness and reduce the court's ecological impact
Aesthetics - optimize the court's visual appeal through creative design choices, making it an inviting and attractive venue for players of all skill levels.
Another element to take into consideration for your padel court design is the structural difference between indoor and outdoor padel courts.
They may seem similar at first glance, but delving into the finer details reveals two important design considerations:
The weather in your region plays a key role in material selection, especially for outdoor courts exposed to extreme heat, cold, or moisture. Durability becomes paramount under these conditions
Lighting is another key aspect to ponder for both types of courts. As we already said, brightness is vital for optimal gameplay, without causing eyestrain or fatigue. Indoor courts can benefit from energy-efficient LED lighting.
Let's discover more in detail some of the elements mentioned above.
PADEL COURT DIMENSIONS
According to the International Padel Federation (FIP), a padel court is 20 meters long and 10 meters wide, about half of a regular tennis court, calculating that the limit of the playing ground is given by the structure itself.
Here are a padel court dimensions:
The field is divided in half by a net and at a distance of 6.95 m the service lines are drawn;
A perpendicular line divides the area between the net and the service lines in half;
Each line has a width of 5 cm;
The back walls are 4 m high.
But let's take a closer look at the size of each element.
PADEL TENNIS COURT SIZE IN METERS: THE NET
The net of a padel court is 10 meters long and 88 cm high in the center (at the extremes it reaches up to 92 cm). The net is supported by a metal cable (1cm in diameter), whose ends are attached to two side posts at most 1.05 m high.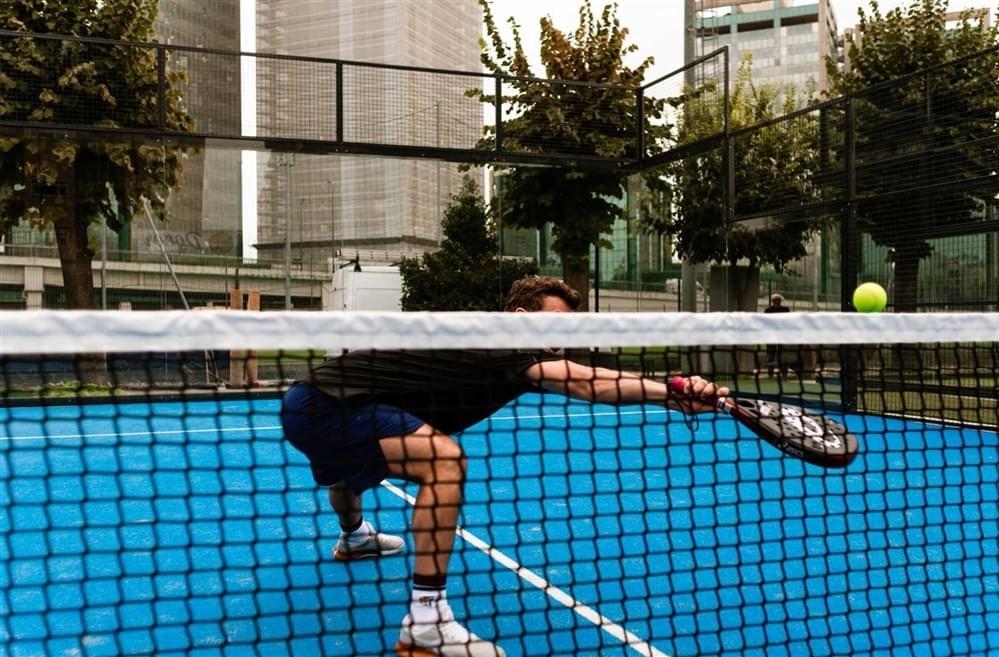 PADEL TENNIS COURT SIZE IN METERS: THE WALLS
In the case of panoramic padel courts, therefore without a cover, the back walls are typically 4 meters high at their highest point;
In the case of covered padel courts the walls are usually 8 meters high with a peak of maximum height of 8.90 meters in the central point of the structure, which is made in the shape of a dome or arch to optimize strength and capacity.
In both cases, Italgreen manufactures the structure, including the net, walls and cover, if any, in fiberglass: a winning choice that allows to reduce wear, zero rust and thus reduce maintenance costs, as well as the blemishes generated by the wear itself.
PADEL COURTS STRUCTURE
The considerations to be made while building padel courts are different but the structure of a padel field always includes some important elements that are present in each installation. The usual structure of a padel court must include:
FLOOR: It is important that the floor of a padel court meets the criteria of hardness, speed and roughness to ensure a very good sliding-bounce of the ball. You can find concrete flooring treated with slippery products but artificial turf cover is preferred.
WALLS: Usually these are prefabricated structures especially in the case of the construction of a fixed padel court. Again, the positioning of tempered glass is preferred, ensuring the correct bounce and, above all, promoting the view from the outside.
FENCE: The most important element in the fence of a padel court is the material that must be resistant to the weather and stresses of the game. Zinc or plasticized nets are usually preferred to ensure maximum resistance over time. The entrance can be delimited by two doors (similar to the fence) or you can also choose to leave it open.
ILLUMINATION: Probably the most important aspect of padel courts, it must be designed to ensure coverage of the whole field but at the same time should not dazzle the players. During construction, the materials used and their arrangement must be evaluated to establish the best solution.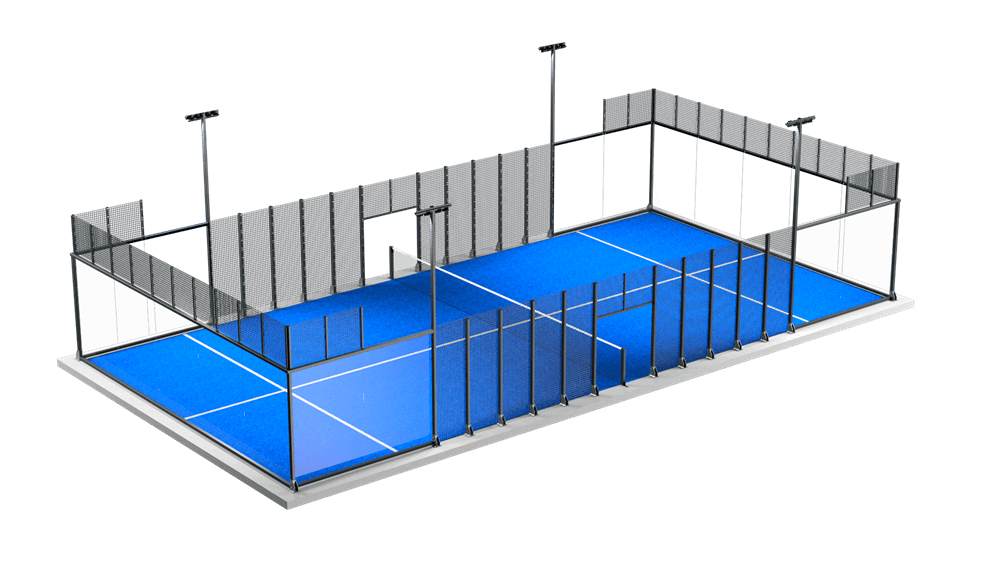 PADEL COURT COST
How much does it cost to build a padel court? There is no single answer, given that the final quote depends on the materials and situation in which you intend to install the court, as well as the possibility of replacing pre-existing tennis courts with two or more padel courts. One thing is for sure: padel fields ensure a significant recovery in costs thanks to the optimization of the spaces and the low costs of management and maintenance, which are further reduced when opting for synthetic turf.
Italgreen supports you during all phases of the construction of a paddle court to ensure an excellent cost/quality ratio through:
Inspection and topographical survey;
Feasibility study;
Technical and economic elaboration of the project of the paddle court construction and installation of the artificial turf and complementary works;
Static testing;
Certificate of fitness that attests to the conditions of safety, hygiene and health of the work and compliance with technical standards;
Extraordinary maintenance of the padel court.
In how much time do I reduce a paddle court cost? One thing is certain: padel courts guarantee a considerable recovery of costs thanks to the optimization of space and low management and maintenance costs, which are further lowered when you opt for a synthetic grass surface.
Considering a rent and an average turnout, in fact, the return takes place in about a year. This timeframe, of course, can double because if the padel court construction also requires the realization of the concrete slab, the cost goes up. However, it must be calculated that a possible cover allows you to use the padel field 365 days a year at all possible times, which also increases the potential economic income.

PADEL COURT CONSTRUCTION COST
A quote for a padel court requires a good amount of information and only after a project and evaluation of the materials and installation will it be possible to get a real idea of a padel court construction cost.
Elements to be evaluated in the quote of a padel field are, for example:
The choice of specific fencing structures and colors;
The type of synthetic turf installed to allow optimal bounce of the ball and excellent game performance;
The installation of other components such as lighting, backgrounds, equipment.
In addition to these factors, in the quote should be considered the type of padel court that you would like to install:
Fixed padel court – with permanent structures;
Indoor or outdoor padel court.
For more information about the padel court construction cost, please contact us for a free quote!
WHAT ITALGREEN CAN OFFER YOU
Italgreen offers you a full designing, building and installing service for padel courts, including the conversion of existing tennis courts: you will be provided with a turnkey padel court, ready to be put to income!
For years a leader in the construction of sports fields and centers, Italgreen offers you all the advantages of Padel with two exclusive advantages:
>>> Patented fiberglass for a structure that lasts over time with little maintenance: the structure of the field is made of fiberglass according to a patented technology: in this way the structure does not rust and its duration over time increases considerably, requiring very few maintenance!
There is also a degree of customization in these facilities. For example, you can choose:
Three different types of fiberglass covers integrated into the structure, separated from the structure by 1 or 2 meters;
The colors of the structure's lights and feet (total black or flash green) and of the net (total black or light grey)
>>> High-performance synthetic turf in any season: the field is made with the prestigious Italgreen artificial turf, especially with the two specific coats 12 Padel Pro and 14 Padel. Synthetic turf is an optimal choice that guarantees high sports performance in every season and with all weather conditions; It also requires very little maintenance. In addition, Italgreen products ensure efficiency resulting from years of expertise in the field and an extremely natural look & feel.
>> Extraordinary maintenance service: in addition to the construction of paddle courts, Italgreen has created Italgreen Care, an exclusive maintenance program for the fields, to ensure that the synthetic grass lasts even longer. The program allows you to have free inspections, extended warranty, membership card, Customer Kit Italgreen.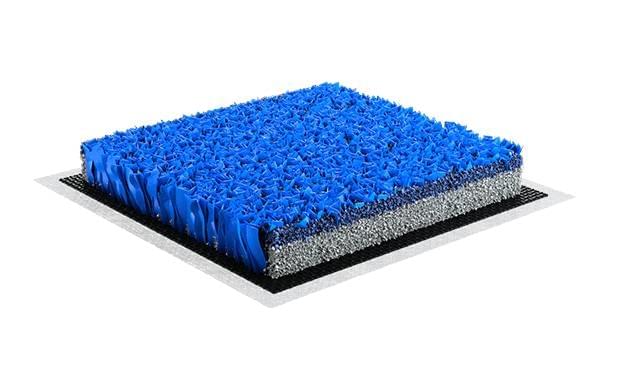 In the picture, the rendering of the 14 Padel coat
WHY INVEST IN PADEL: CONCLUSIONS
Why should you start investing in padel fields? More and more public and private facilities are deciding to include a padel court in their business plan. In fact, investing in padel is economically convenient for a number of reasons that we have already mentioned and that are worth summarizing. Not least, the fact that this sport is gaining a lot of ground in the world and in the US, especially in Texas, Florida, California and New York State. According to the USPA (United States Padel Association), there will be around 30,000 courts and over 8 million players by 2030.
Today, the US counts around 160 Padel courts (both public and private ones). This number is going to double in 2022 as Padel is becoming more and more popular.
But there are also purely economic reasons why investing in padel is a more than profitable idea:
Optimize the space in your sports center: first of all, the padel court measures about 10 x 20 m, which is half the size of a tennis court - meaning that if you want, you can build almost two padel courts instead of one tennis court;
Double the turnover: padel requires four players, unlike tennis, which requires two;
Low maintenance and year-round accessibility: finally, synthetic grass for the padel field allows you to save even more because it requires little maintenance, does not need to be irrigated and makes your field usable all year round, even after heavy downpours - the underlying drainage system, in fact, prevents the formation of puddles and mud on the surface.
Contact us without obligation for more information or for a free quote!