Artificial grass manufacturers
Reliability, variety of products, high quality, after-sales service are just a few expectations you may have when thinking of an artificial grass manufacturer. At Italgreen's we go further beyond this by offering you several types of synthetic turf, recognised by the most important international sport federations, such as FIFA, LND, FIT, IRB and the likes. In addition, we also manufacture landscape grass for private and public gardens, urban design, swimming pools and the likes.
Despite our forte being the manufacturing and the supply of artificial grass for sports, we also deal with landscape grass for gardens, urban areas, parks and so on with excellent results either in Italy and abroad – yes, from the UK to Japan!
On this page we'll take a look at: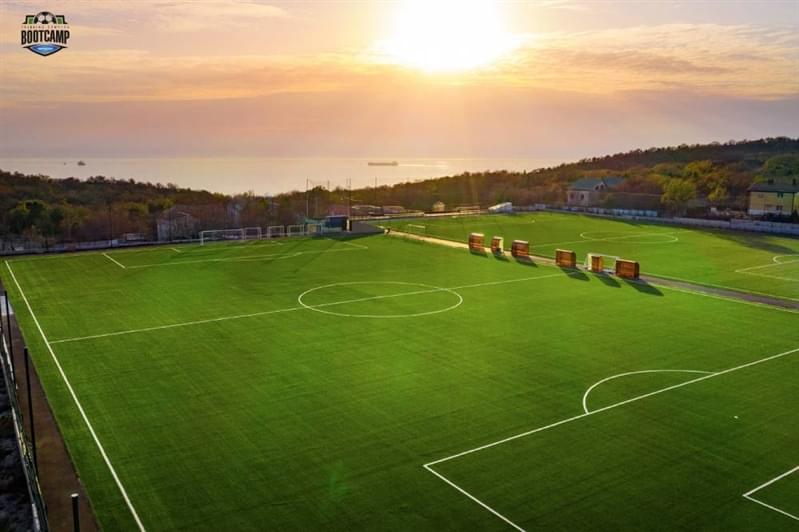 Sports artificial grass manufacturers and suppliers since 1983
Since 1983 we have been operating on the market of synthetic turf as artificial grass manufacturers and suppliers, achieving various acknowledgments on the field:
We have achieved quality certifications issued by the National Amateur League (LND)
We designed and installed the first synthetic turf football field for an A series team
We built and certified the first 100% recyclable fields approved by FIGC and FIR
We designed and installed the first synthetic turf football field for the Brazilian A series
We have become one of the most acclaimed artificial grass manufacturers by offering a various range of synthetic turfs whose yarns are made in compliance with European standards and designed by keeping in mind the needs and wants of the athletes and the owners of the field.
This is why we test every mantle in our laboratories: we guarantee that Italgreen's synthetic grass has passed the strictest LISPORT wear tests as well as UV rays deterioration with flying colours tests.
Here are the kinds of artificial grass manufactured by Italgreen.
DMX
Due to its special monofilament fibre, this grass is extremely resistant to weakening caused by the effects of ultraviolet light and ice, and consequently lasts longer. The special elongated diamond shape makes the fibres immediately go back to a vertical position after being trod on, ensuring perfect ball bounce during football matches.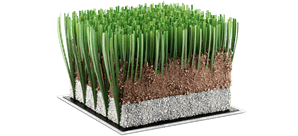 Double 4
Resistant to strain, UV rays and ice, this artificial mantle is characterised by a diamond shape and a mix of yarns that recreate the aesthetic and tactile effect of a natural field. We suggest this artificial turf for rugby and football.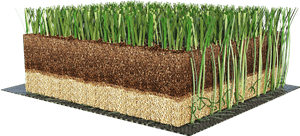 12 Padel Pro and 14 Padel
They are two kinds of artificial grass purposely manufactured for padel. Their main characteristic is the resilience of the fibres which resist ice and ultraviolet light effects and go straight back into a vertical position soon after being trod on. 12 Padel Pro is 10-mm-high while 14 Padel is 12-mm-high.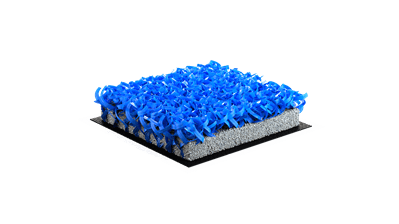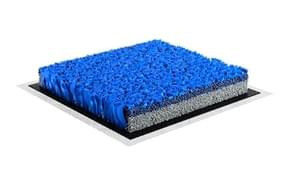 Which kind of artificial grass do you need?
All Star
All Star is made of 52-millimeters-high special fibres consisting of four sections that are grouped and tied together rather than twined. They are made of ESENE C6 polymers in polyethylene which provide a high degree of durability as well as a natural look. Choose this artificial grass if you want to build a high-performing football or rugby court.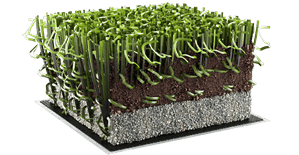 Green HD
Green HD is one of the most versatile mantles suitable for:
Futsal courts
Multi-sport football fields
Tennis courts
Padel courts
We have recently revised the Green HD technology so to give it superior resilience and elastic memory, and an extremely natural look due to its two-coloured scheme and smooth yarns.
Lesmo 3S
We have combined Lesmo HD and Double 4 to create Lesmo 3S, a mantle characterised by three colours and three shapes that integrates all the advantages of the best synthetic turfs. If you look for an innovative, yet natural looking football field, this is the kinds of artificial grass you need.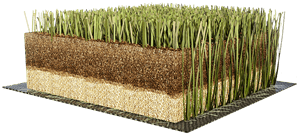 Zerofill
The combination of two kinds of durable and long-lasting polyethylene monofilaments has originated the new Zerofill grass. The combination of the threads creates three shades of green and a surface that reduces the amount of abrasion.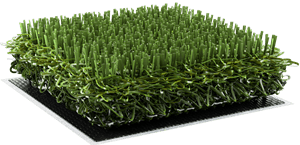 Tee and putting green
We design and manufacture golf turf keeping in mind the highest standards this sport requires. Our tee and putting green perfectly simulates natural grass, and its response to ball rolling.
System Waterbase and Sandbase Technology
The System Waterbase is one of the most technological solutions for hockey as it guarantees high-performing play by making the ball roll on a super-thin water layer on the artificial grass.
In the Sandbase technology, hockey turf mantle is closely packed with sand until the tufted surface is almost completely covered so as to achieve a visual effect that is very similar to a natural grass field.
Still wondering how many kinds of artificial grass we can manufacture?
Go on reading, there's much more!
Artificial grass producers for landscaping
Our experience as artificial grass manufacturers has led us to design also decorative art grass, whose main characteristics are naturalness, aesthetic impact and easy maintenance. We produce three types of landscape turf:
Dreamy
Available in two pile heights – 35 mm and 20 mm – Dreamy perfectly recreates the look of an English lawn for an all-year-round luscious and green garden.
Fine
Its pale green yarns recall the idea of a shiny Mediterranean summer lawn: while the curly fibres of the thatch layer give softness and compactness, the higher two-tone light green fibres give the feel of a natural lawn.
Riccio
Robust and always green, Riccio is the ideal synthetic grass to provide a clean and organised look for urban décor such as rotaries, traffic islands, pedestrian areas, but also for school yards, playgrounds, terraces, as it is a short synthetic manufactured with 3.5mm polypropylene so to creates a pleasant natural effect thanks to its curly yarns – 'riccio' actually means 'curl'.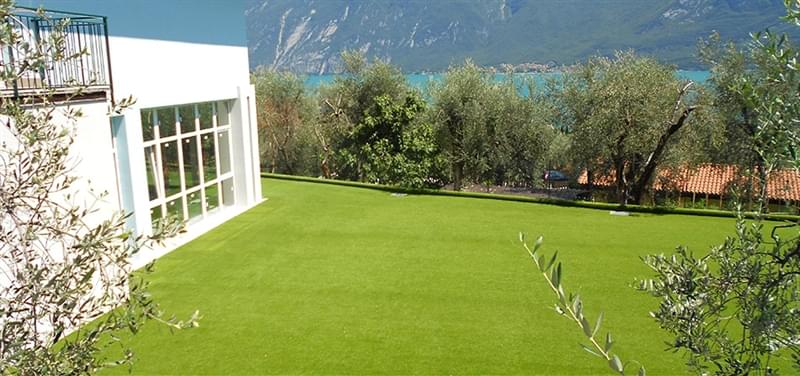 Choose Italgreen as your artificial grass manufacturers
How we work as artificial grass manufacturers and suppliers
We are an artificial grass factory that takes its job very seriously. This is why we frequently undergo controls on materials and manufacturing processes, guaranteed by the most recent certifications regarding new products in the sector. This way, we can find the best solution for you so as to deliver you a 100% functional synthetic field.
From the moment you contact us to the lawn delivery we proceed step by step to study your specific case and supply the right kind of grass. Here's how we carry out a manufacture and supply of artificial grass:
We start with a site inspection alongside a topographic survey to analyse the area where the artificial turf carpet will be installed
Then, we go on with a feasibility study either from a technical and economic point of view
We eventually design the project
The very last step is the grass installation alongside infills such as Geofill®, and underfelts like Next, necessary to optimise the anti-shock performance of the artificial grass.
After artificial grass supply: Italgreen Care maintenance programme
'Never alone' is our philosophy: we will be by your side also well after the artificial grass lawn has been supplied and installed.
In addition to periodical maintenance, you can opt for extraordinary maintenance so to be sure your grass will always be at the top by joining our special programme called Italgreen Care.
Italgreen Care includes:
Scheduled maintenance at a promotional price
Discount on the purchase of the infill
Free site inspection by one of our technicians
Warranty extension
A membership card
Tools to carry out all maintenance operations
However, do not be scared: artificial grass like the one manufactured and supplied by Italgreen, really requires little maintenance as it is resistant to atmospheric agents, UV rays, intense use.
The result is a field you can use all-year-long and, as for sport centres, an all-year-round playable court.
All the advantages of an artificial grass manufacturer like Italgreen
When you decide to cover your field with synthetic turf, be sure you choose a reliable and experienced artificial turf manufacturer.
For example, at Italgreen we provide you with a series of services that go well beyond the simple installation of your artificial lawn:
After inspection and topographic surveys, we are able to give you some advice on the most suitable kinds of artificial grass
We offer many different kinds of synthetic grass
We deliver you a ready-to-use field whether you need it for sports or recreational activities
We internally produce all the types of grass, infills and underfelts
We assist you also after the installation of the grass mantle by providing you regular cleaning, periodic sanitation, periodic irrigation, watering on hot days, periodic repairs and testing (these services are upon request)
In addition, note that a synthetic grass lets you save some money for it does not require many maintenance intervention or irrigation. Especially, if you opt for an artificial mantle for sports, you will be sure to use it all-year-round even after heavy rain or bad weather as the draining system avoids puddle formation and mud on the lawn surface.
Try Italgreen quality