Padel court installation steps
Wednesday , 14 October 2020
Padel is becoming increasingly popular in Italy both at a competitive level and as a moment of socialising. For this reason, increasingly more recreation facilities are considering the possibility of housing courts to practice this sport. But how do you go about building padel courts?
Padel, or paddle, is a sport similar to tennis, of which it maintains the rules and methods of counting points, but which is played on smaller courts, with stiffer rackets and a softer ball than tennis. Being the smallest court, many recreation facilities such as tourist villages and sports centres optimise unused spaces by installing padel courts, in order to attract fans.
Put this way it seems very simple. In reality, the installation of padel courts must be handled using the expertise of a specialised company that knows how to correctly evaluate the different factors and elements that create a court suitable to practice this sport.
Installing a padel court: how do you do it?
First of all, it is necessary to start from a basic consideration: it is not enough to create a playing area smaller than that of tennis in the construction of a padel court because you must guarantee the speed of play that this sport requires in every way. And, to do this, the court must be designed and installed correctly.
Therefore, there are some essential steps to install a durable and easy to maintain padel court.
Here are the steps we take at Italgreen when we are called to build a padel court:
inspection with topographic survey
installation of a perimeter slab or curb
choice of the type of synthetic turf
installation of the lighting system, fences, possible coating
turn-key delivery
any court maintenance
Advantages and construction of padel courts: learn more.
The preparation of the foundation in the installation of a padel court
The first step to take is an inspection with topographic survey, after which our engineers carry out a technical and economic feasibility study, and draw up a project.
The second step, after making sure that there are no imperfections or depressions in the ground, is the installation of a perimeter slab or curb conforming to the characteristics of the project.
The court construction site, in particular, involves the laying of the turf with:
underfelts
infills
draining and anti-shock underfelt
the installation of complementary works such as lighting, equipment and irrigation systems
The choice of turf
The choice of turf must be considered because it affects the stiffness, softness and speed you want to get from the court.
The best option is synthetic turf, ideal for optimising all game dynamics, as well as the maintenance and durability of the court itself. Among the various types of synthetic turf that we produce at Italgreen, we recommend:
12 Padel Pro and 14 Padel are two turfs specially created for padel, 10 mm and 12 mm high respectively and composed of fibres resistant to ice and ultraviolet rays. Furthermore, they have a high elastic memory which causes the fibres to immediately return to a vertical position after being trod on. They are available in three colours: red, green and blue.

The choice of synthetic turf in the installation of padel courts has significant advantages because:
it requires little maintenance and therefore also saves costs
it is perfect all year round
it promotes rebound and optimal ball trajectories
it allows foot grip and sliding
it grants considerable playing comfort
Complementary works
Simultaneously with the construction site and the laying of the turf, we proceed with the installation of all the complementary works, such as:
lighting, designed to ensure coverage of the entire court without blinding the players - it is therefore necessary to evaluate the materials and layout
fencing, resistant to bad weather and the stresses of the game
any coatings, which depend on the type of court: fixed and equipped with permanent structures or outdoors or indoors
Fibreglass structures
We were the first in the world to have patented special fibreglass structures for Padel courts which, unlike those made of iron:
do not rust
are resistant to salt corrosion, UV rays and fire
do not risk structural failures
are lightweight
Turnkey padel court delivery
Finally, once the construction of the padel court is finished, we deliver it to you turnkey, ready for use and fully functional.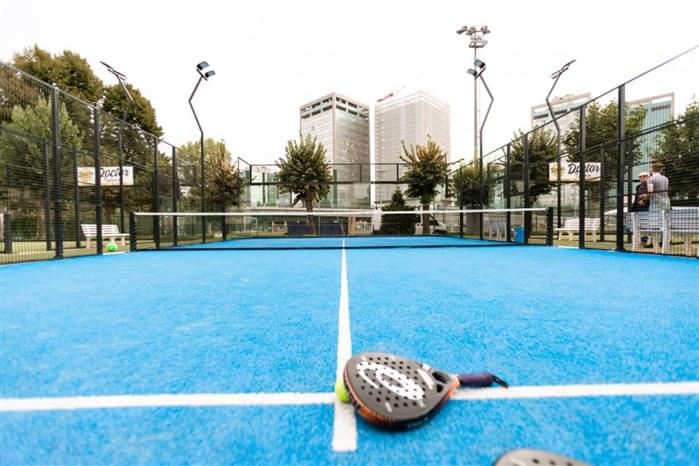 And after installation, how do you maintain a padel court?
In reality, it is not difficult to maintain a synthetic turf padel court because the latter is specially designed to withstand intense use, harsh climatic conditions and UV rays. In addition, it does not require irrigation, which significantly reduces maintenance costs.
However, to ensure that the court is always in excellent condition and as new, it may be necessary to carry out some maintenance or periodic checks.
Our after-sales service thus includes the possibility of requesting the control:
of flatness
of any detached sheets and signs and relevant measures
of infill thickness
of turf thickness
of obstacles
and other types of services such as:
cleaning the surface from contaminants by blowing
brushing/harrowing with suitable machinery to make the distribution of the infill homogeneous
removal of the existing infill in the mat by deep harrowing
repeated brushing to even out the previously inserted infill
inspection and cleaning of the drainage system
Why build a padel court with Italgreen
Since 1983 we have been producing synthetic turf and constructing and installing various courts, including those for padel.
By producing everything internally, we have precise control over all stages of the supply chain: for this reason, we are able to offer you the best artificial turf solutions combined with innovative structures for padel courts.
Find out more about why Italgreen can be your padel court manufacturer.
Do you want to install a padel court?