Indoor padel courts
Italgreen designs and installs high quality indoor padel courts according to customers' requests. Discover all the advantages of this type of field and Italgreen solutions.
Let's discover:
Italgreen's best solutions for indoor padel courts
After careful research and development work, Italgreen created high quality indoor padel courts, characterized by excellent resistance and efficient game performance.
More precisely, Italgreen offers panoramic iron padel courts, in order to guarantee the best experience both for players and spectators.
A panoramic padel court, in fact, can offer a much wider view to enjoy the game performance even better, thanks to the presence of small plexiglass or steel connectors to replace the traditional poles used to connect the windows.
In addition, these indoor padel courts are the winning choice also with regard to materials: iron is a very innovative material for padel courts, as it is the result of a state-of-the-art process of hot dip galvanizing and thermo-hardened powder coating.
This means that padel courts made this way:
are not subject to deterioration;
avoid problems such as rust and possible structural failures;
are extremely resistant and durable over time;
need minimal maintenance operations;
are fireproof;
are perfectly compliant with FIT and FIP specifications.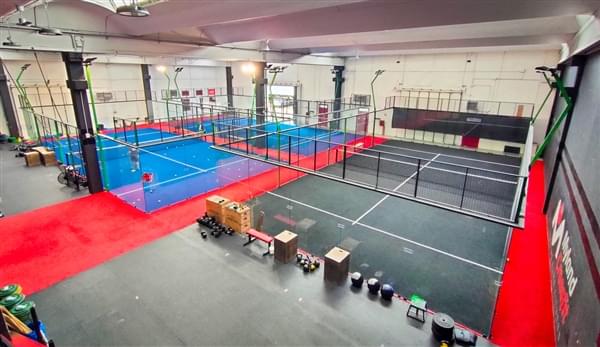 Discover more about our iron indoor padel courts!
Why choose an indoor padel court
An indoor padel court can be the best choice for your sports center, as:
It can be used year-round regardless of weather conditions;
It is very durable as it is protected from bad weather conditions;
Avoid suffering from cold weather during the winter season;
It can guarantee a better light during evening matches.
In general, choosing an indoor padel court will allow you to play whenever you want and this is very positive also from the economic point of view: the possibility to play without any limitation, in fact, results in a greater number of matches that can be played in a day, resulting in higher profits.
Some Locations for Installing a Covered Padel Court
When considering the installation of a covered padel court, it's essential to identify the ideal location that maximizes its benefits and accessibility. Here are 3 locations to consider for installing this type of padel court:
Sports Clubs and Recreation Centers are excellent locations for covered padel courts. They often offer a wide range of sports enthusiasts and provide the infrastructure necessary to support various activities. By adding a covered padel court to their facilities, clubs can offer an all-weather playing option, attracting more members and enhancing their overall offerings

Educational Institutions: schools and colleges can greatly benefit from installing covered padel courts. They provide an opportunity for students to engage in a popular sport while enjoying protection from adverse weather conditions

Residential Communities such as apartment complexes, housing estates, and gated communities can create a great recreational experience by installing covered padel courts. These facilities offer residents the convenience of having a sport they enjoy right at their doorstep and the possibility to play whenever they want.
Choose Italgreen for your new padel court
Italgreen, leading manufacturer and installer of synthetic turf padel courts, offers excellent quality solutions to ensure great playing performance with minimal maintenance.
With Italgreen, you will be followed during the design and construction phases of your indoor padel court, which can be personalized according to your needs.
You will be able to choose from two different types of synthetic turf, specially designed for padel: 12 padel pro and 14 padel, able to ensure flawless playing performance.
And that's not all. Italgreen, in fact:
Guarantees 100% Made in Italy quality fields;
Offers "turnkey solutions", in fact the entire process of construction and installation is totally managed by us;
Is an official sponsor of the International Padel Generation;
It is an institutional partner of ICS (Istituto per il Credito Sportivo), the main provider of financing for padel courts.
Find out more about how we can manufacture your padel court. Read the article: Padel Court Manufacturers: Why Choose Italgreen
Are you looking for indoor padel courts? Choose real experts!