Artificial grass for sports
Since 1980s at Italgreen we have been investing all our efforts on developing artificial grass for sports, the solution to muddy, uneven natural playing fields. We are able to carry you throughout the whole construction process of a synthetic grass field, from the design until the actual installation. As a result, you will have a ready-to-use artificial grass turf!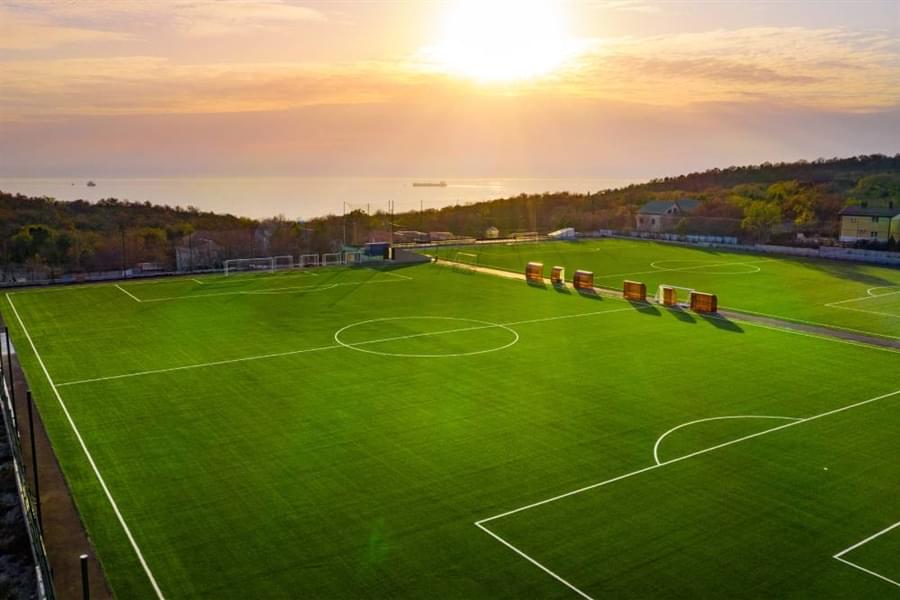 If you are looking to install artificial grass for sports on a brand new terrain or on an existing surface, you are in the right place. Whichever sport you need it for, we can provide you with a complete service, which may include:
Supply of the synthetic turf mantle by itself or the complete kit with accessory materials
Design of the entire sports centre or only of the play area in synthetic turf according to the various degrees of approval
Installation of synthetic turf and/or complementary works
Synthetic turf maintenance
All the kinds of artificial grass for sports you can find at Italgreen
During the years we have developed and produced several kinds of artificial grass which differ from one another for details regarding the yarns and some characteristics such as softness and resilience.
Artificial grass for sports is our core business, and we can list at least ten kinds:
DMX
Double 4
Green HD
12 Padel Pro and 14 Padel
Lesmo S3
All Star
Zerofill
Waterbase System
Tee and putting
We use them to install a variety of fields. Let's look how we can decline them for various sport fields like:
Tennis and padel fields
Football, futsal and 7/8-a-side fields
Rugby and American football fields
Golf fields
Hockey fields
Looking for artificial grass for sports?
Tennis and padel
Despite being different sports, they both need speed and dynamicity. The most suitable artificial grass for these sports is Green HD, characterised by smooth yarns which provide:
extreme resistance
high elastic memory
duration
consistent play in all conditions
Instead of Green HD, you can use also the new 12 Padel Pro, a 10-millimitres-high artificial grass, which consists of special texturized polyethilene fibres made to:
resist the effect of ice and UV rays
guarantee superior elastic memory
reach extremely aesthetic performance and natural look due to its two-colour scheme
ensure a high degree of shape memory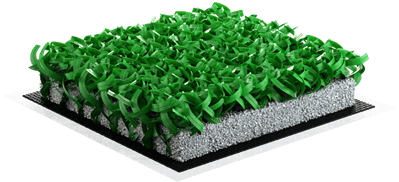 Another possibility is to install 14 Padel, a type of artificial grass for padel, made of 12-millimitres-high twined fibres which are higly resistant to ice and UV rays as well. This mantle provides:
the most natural look due to the two-colour scheme
extreme duration over time and resistance to wear
perfect ball bounce and foot grip

Artificial grass for football, futsal and 7/8-a-side
Synthetic grass enhances technique, and allows for a spectacular match outperforming natural grass fields. To obtain such great results, we have asked professional football players and coaches for a feedback and, in the end, we have installed more than 100 FIFA Quality Pro-certified fields and more than 340 LND-certified fields so far.
Then if you are looking for artificial grass for football, futsal or 7/8-a-side, we suggest you one of the following options: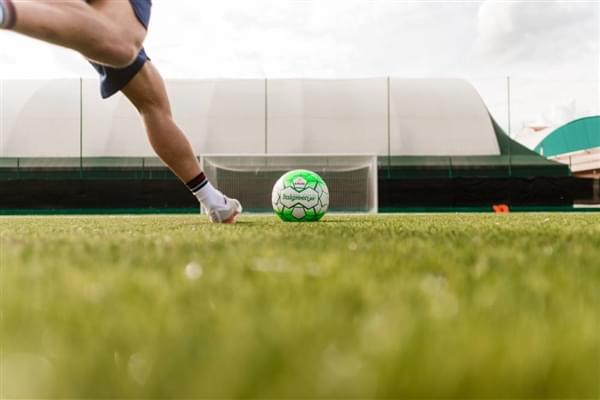 Rugby and American football
Player safety, ball performance and surface durability are the main features you need to look for in artificial grass for sports such and rugby and American football. It means that the mantle needs to be highly resistant to strain and extremely soft so to avoid abrasions in case the athletes fall.
Well, here's Italgreen's solution:
DMX – a two-coloured field that perfectly simulates the tactile sensation of natural grass, but much more resistant
Double 4 – a two-coloured field made of the special combination of yarns that recreate the effect of natural grass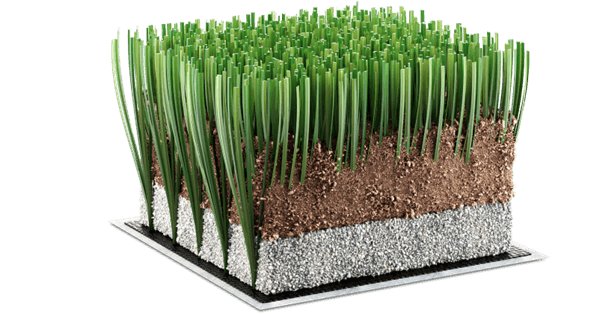 Both of them obviously enhance high performances as well as a realistic effect. Don't you believe it? We have achieved certifications from the International Rugby Board and from the Italian Rugby Federation.
Golf
Tee and putting are the most suitable kinds of artificial grass for golf as they are able to satisfy the needs of professionals like:
optimal ball bounce
ideal trajectories
all-year-round playability
natural feeling and good look
In addition, our golf synthetic turf is 100% recyclable and environmentally friendly.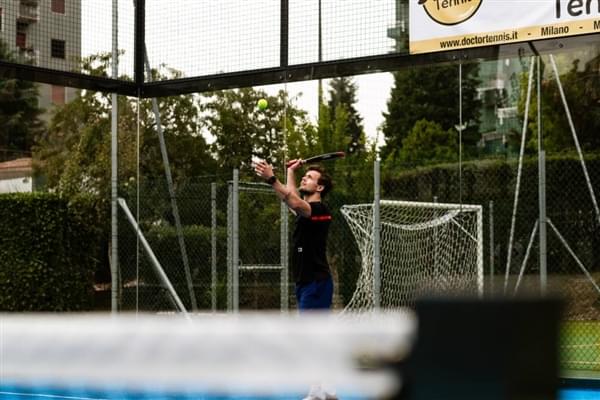 Hockey
Artificial grass for hockey must foster dynamic play and perfect ball sliding. That is why the hockey solutions you will find at Italgreen will guarantee:
smoothness
velvet feel
natural aesthetic
Through the years we have developed some ultra-high-tech solutions such as the Waterbase System that makes the ball to roll on a very thin water layer on the synthetic turf, so to enhance high-performing play. Even the Hockey World League and the Italian Hockey Federation have appreciated it, will you appreciate it too?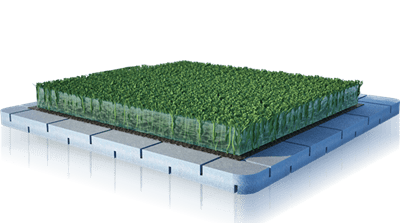 Which sports do you need to install artificial grass for?
Infills and underfelts
Under the artificial grass surface, a sport field needs different layers which convey those draining, shock absorption and bouncing properties that make it playable all year long, and very similar to a natural one. These layers are infills and underfelts:
Geofill® is an innovative natural infill that consists of plant fibres, and provides the synthetic grass with a very natural touch. Moreover, it reduces draining problems, and keep the terrain temperature constant so that the surface will not freeze at low temperatures.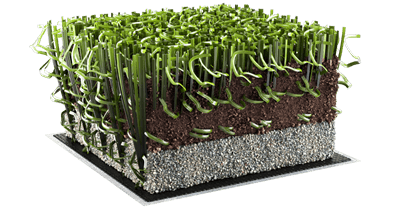 Next is an underfelt that optimises the anti-shock performance of the synthetic turf system. It has been studied for horizontal drainage underfelts, as demonstrated by laboratory reports issued by LABOSPORT ITALIA.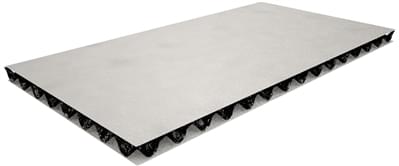 Why should you choose artificial grass for sports?
Artificial grass has been spreading among sports centres, hotels and the likes lately. This is due to several reasons that involves either the owners and the players.
As for the owners, artificial grass is:
Easy to maintain as it needs no irrigation
Playable all year long so to easily recover the investment
At the same time, athletes can benefit from artificial grass for sports because:
It allows perfect ball bounce and sliding
It feels like real grass, but with a much more consistent level of performance
It guarantees perfect grip and foot sliding
It extremely soft so to avoid abrasion in case the players fall
Try Italgreen artificial grass for sports