Why you should build a padel court
Recently, building a padel court seems to be the most popular solution for hotels and recreational facilities, but also for car manufacturers. But how is a padel court built? First of all, by relying on specialised companies such as Italgreen.
Invented in the early 70s in Mexico, padel (or paddle) has now taken hold all over the world, including Italy. The official presentation of this sport took place in May 1991, when a padel court was built at the Bologna Expo centre during the Sport Show event, a court on which the representatives of Spain, Italy and Argentina competed.
In Italy, it was then officially recognised by CONI and included, in 2008, in FIT (Italian Tennis Federation).
Let's go into the details of this sport by discovering:
Padel key figures
As we have already mentioned, an increasing number of private and public centres are building padel courts; not to mention clothing brands such as Adidas, Joma or Asics, which are increasingly investing in this sport.
Nothing surprising if we take a glance at the key figures in Italy for 2019:
over 1000 padel courts are regularly open in Italy
7,000 are registered athletes (in 2014 there were only 300)
about 50,000 have played in general
In 2024, padel could even be included in the Paris Olympics!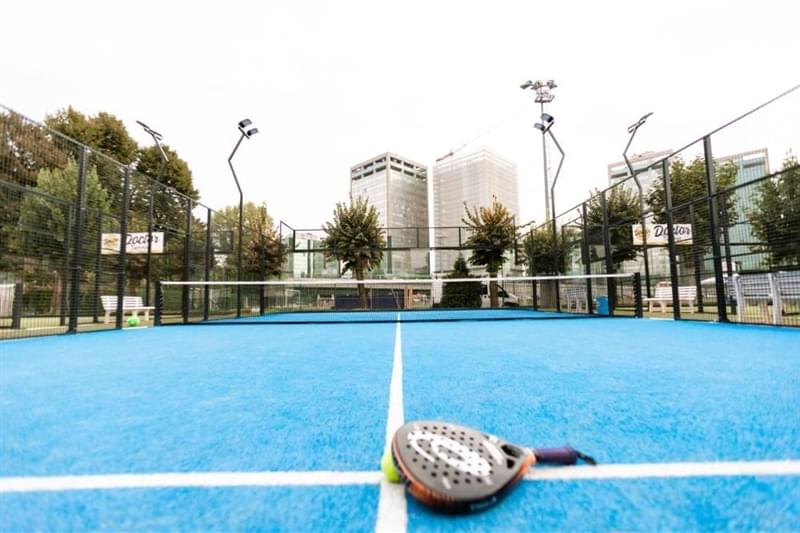 How can you build a padel court?
Contact Italgreen to learn more
Building a padel court: here's how
The first thing to do when considering whether and where to build a padel court is to make sure you have enough space. In general the court is 10 m wide and 20 m long, with the back walls being essential to correctly play the game.
But don't get lost in overly complicated calculations. If you need advice, Italgreen engineers will take care of delivering you a turnkey padel court. We work step by step, following each and every fundamental operation to build a padel court:
first of all, an inspection to evaluate the space and make sure that there are no imperfections in the ground
installation of a perimeter slab or curb following the geological survey
synthetic turf installation
structure installation with glass (12mm)
choice of accessory products - lighting, potential coverage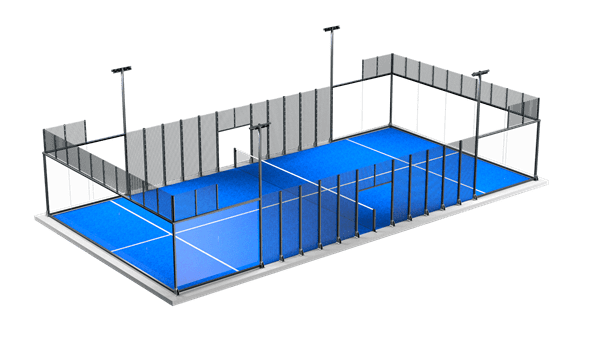 Choose the synthetic turf for your padel court
The choice of turf is a particularly delicate point because stiffness, softness and speed of play depend on it.
Generally, we recommend a synthetic turf such as 12 Padel Pro and 14 Padel, specially designed for padel courts, particularly easy to maintain and available in three colours (blue, red and green).
A synthetic turf padel court, in fact, has significant benefits such as:
it requires little maintenance and therefore also significantly saves costs
the possibility of using it all year round
optimal rebound and ball trajectories
perfect foot grip and sliding
remarkable overall playing comfort
12 Padel Pro is a 10mm high synthetic turf mantle. Recently improved, it is composed of two-tone textured polyethylene fibres for a natural effect. 12 Padel Pro features include:
frost and UV ray resistance
high elastic memory
durability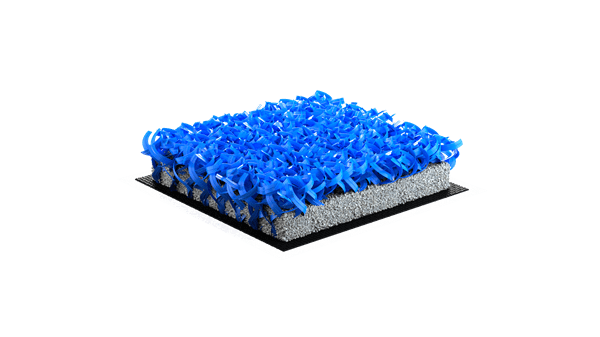 14 Padel, 12 mm high, is made up of twisted fibrillated fibres that make it resistant to frost and UV rays. It is a type of synthetic padel turf:
two-tone, for a realistic effect
with a great elastic memory, which allows the fibres to return to a vertical position after being trod on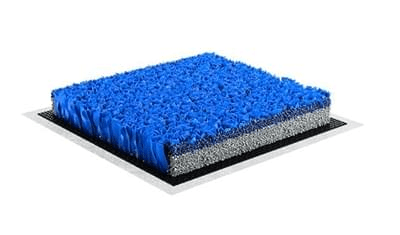 Fibreglass structures
The construction of a padel court also involves the choice of suitable structures. In fact, padel courts are usually equipped with iron structures which, however, rust easily and undergo corrosion from salt mist.
Italgreen, on the other hand, offers an innovative solution: it is the first company in the world to have patented fibreglass structures for padel courts. The latter, unlike those made of iron, not only do not rust, but do not undergo structural failure and require almost no maintenance.
Furthermore, the new Italgreen fibreglass structures are also:
lightweight
easy to install
with high mechanical resistance
resistant to fire, UV rays and salt mist corrosion
Why you should build a padel court instead of a five-a- side or tennis court
There are at least two good reasons why you could choose to build a padel court instead of a five-a-side football pitch, and both are very concrete: one concerns the necessary spaces, the other the economic side.
Here they are:
the padel court is a third of a five-a-side football pitch - you can virtually install three paddle courts instead of a five-a-side football pitch
padel always requires four players - if you calculate to apply similar fees (for example, € 15 each), you will earn about € 180 Euro (€ 15 Euro x 12 players distributed in the three courts you build instead of a football pitch, which would only earn you € 50)
The same goes for tennis: the padel court, in fact, is about half the size of a tennis court and requires four players instead of two: there is no doubt therefore that, even in this case, you will earn more than double!
Contact Italgreen and build your padel court: