The synthetic turf of the arena conquered the final of the Volleyball World League
Volleyball World League final
The Arena da Baixada will be hosting the world final of volleyball in July. Not just a gymnasium, but a veritable stadium that seats around 50,000. A dream for the countless aficionados and fans who can follow the World League final match inside an incredible stadium which was also the protagonist of the 2014 World Cup. The Atlético Paranaense stadium, one of the world's most modern stadiums.
Thanks to the versatility of synthetic turf, last May the stadium hosted the UFC event, the world's most renowned fighting championship, and on 3 September 2016 it hosted a volleyball match between the male teams of Brazil and Portugal to celebrate the Brazilian team's Rio 2016 gold medal.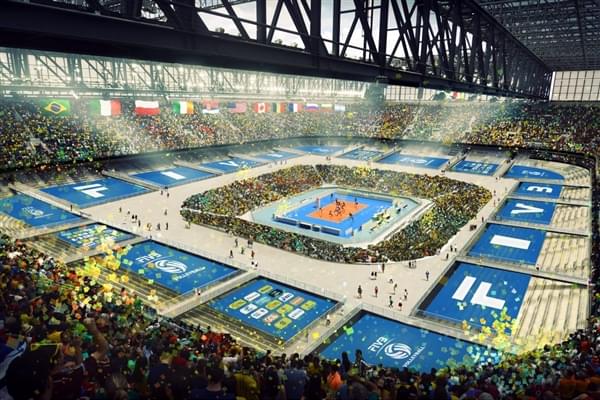 Once again we talk about multi-purpose stadiums made so by synthetic turf: whether it is a sports stadium for a top team, a football field in a small town, or a venue prepared to host an event, thanks to the creation or redeveloping of the structure with synthetic turf by Italgreen, it is possible to give life to a stage suitable to all kinds of events: concerts, exhibitions, lectures or recreational activities for all age groups, in absolute safety and with maximum durability. The initial investment can be recovered by using the structure with synthetic turf mantle more often than a natural grass ever could, as it would be damaged; this would avoid superfluous maintenance costs after each event.
ITALGREEN AND ARENA DA BAIXADA
The Arena da Baixada is one of Italgreen's many excellent projects. Last year the company had transformed the home of Atlético Paranaense with its Lesmo HD mantle and plant infill, granting it the title of first professional stadium with synthetic turf in South America. A liaison born out of the need to replace the original grass mantle with a synthetic solution due to the small amounts of light and oxygen, which could not guarantee the proper growth of natural grass. The replacement made by Italgreen was concluded in record time: 2 months to make everything official and signal "go" to the match where Atlético Paranaense beat Criciúma.