The Chieri Calcio citadel has Italgreen synthetic turf
The choice for synthetic turf
Chieri Calcio has chosen to dedicate its new sports centre to Roberto Rosato, a famous local player. To do so, it hired Italgreen, following the excellent results achieved in Pavia, where the synthetic turf mantles were fixed. Italgreen's fame in the football world is unstoppable, thanks to continuous word of mouth and excellent references, the result of the professionalism of the company from Villa D'Adda.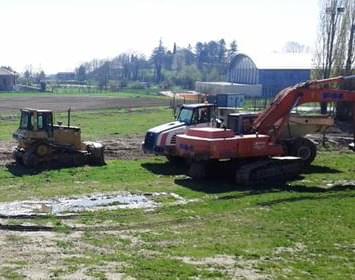 THE PROJECT
The new "Roberto Rosario" sports stadium will be a veritable fortress of sport. An investment of 1,370,000 euros will make it possible to renew the archery field and build new football fields, tribunes, box offices, cafés, locker rooms, offices, and a room used for rehabilitation and preparation. More specifically, Italgreen will be in charge of installing a football field approved by LND standard, 62 Lesmo HD with Geofill N organic infill.
INSTALLED SYSTEM
Lesmo HD, already used in the Khimki Rodina Arena, in Moscow, is a mantle made of three-colour yarn with a characteristic S shape, perfect for those searching for the best compromise between aesthetics, softness and elastic memory. The particular organic infill of Geofill N, the result of Italgreen's constant effort to invest resources in research and development, gives the field incredible naturalness thanks to its innovative organoleptic properties. Geofill, patented by Italgreen, perfectly absorbs the impact of running, immediately returning the necessary bounce for the leap. It allows for perfect foot support, allows the ball to run easily during the game, and, thanks to its consistency, reduces the risk of lesions.