Padel and Italgreen synthetic turf at BNL d'Italia 2017
We are only a few days away from the beginning of Internazionali d'Italia BNL, from 10 to 21 May in Foro Italico, Rome. There are almost 16 thousand participants today. A huge success, as these figures are higher than those for the US Play-Offs, the manifestation organised by USTA every year for the New York Slam. In 2011, when the project was launched, only 884 players stepped forward.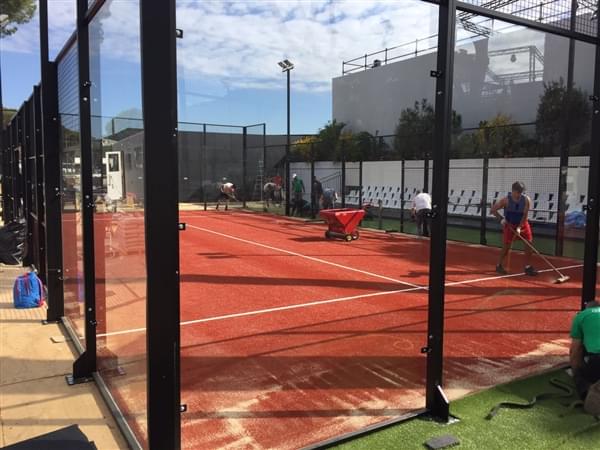 Not just tennis at Internazionali d'Italia BNL at Foro Italico
Another sport will be embellishing one of the most interesting ATP World Tour Masters 1000: Padel, which today has kicked off its male and female open for the national classification. Italgreen will be attending this important sports event as main sponsor, together with Stadium Pro, with whom it will install, outside the Foro Italico, two padel courts in red synthetic turf. A significant participation to which Italgreen has dedicated special attention, not only because of the prestigious nature of the event, one of the world's tennis events with the greatest number of participants, but also because it is now working with a new sport with great potentialities.
Padel is said to have been born "by mistake", when a Mexican citizens, in the 1970's, built a tennis court with the wrong size, within a space surrounded by walls. Many things have changed since then, and padel is now a reference sport for millions of people throughout the world.
Neither mini tennis nor a variation of squash, padel is a sport with its own identity that has had its own federation since 1991 and has been acknowledged by C.O.N.I since 2008, which has included it in the Italian Tennis Federation.
The growth of padel
Padel is growing exponentially in Italy, following the enthusiasm of Argentinians and Spaniards for this sport. In this context, Italgreen is seriously committed to supporting it and giving it a proper professional push, placing itself as ideal partner to give life to suitable venues where padel matches can be played, thanks to its synthetic turf available in any colour variation, from the most authoritative to amateur. Internazionali d'Italia BNL will certainly be a great field where the right match should be played to make this sport achieve the popularity it deserves.