Italgreen and Milan CSI: a new alliance is born
Monday , 04 February 2019
Together to increase the value of young people
Unity is strength
On the occasion of the last edition of Oralimpics, the Oratory Olympics was born a friendship between Italgreen and CSI Milan services, united by the common vision, the commitment will be to improve the quality of the time of young people within the Oratories. Italgreen, a leading company in the production of synthetic turf fields entirely Made in Italy, has supported in the front line the realization of the event, making available its sports facilities to allow young speakers to live their Olympic dream.
From the camp "to live the Parish Priest" to beautiful, modern and safe educational places.
This is the challenge we have before us. Making or redoing a field is always an important and complicated choice. For this reason the CSI has chosen a partner like Italgreen, available to support the oratory sports clubs in every step.
The team of Italgreen, in synergy with the plant engineering office of the CSI Milan, will study tailor-made proposals to meet every need of companies that need to design a new field or to renew the existing one.
In sport we find our identity and our values. In sport we recognize our company philosophy. For sport we bring innovative solutions and superior technology
This is the mission of Italgreen, a reality that strongly believes in the educational values ​​of sport, as happens in our association.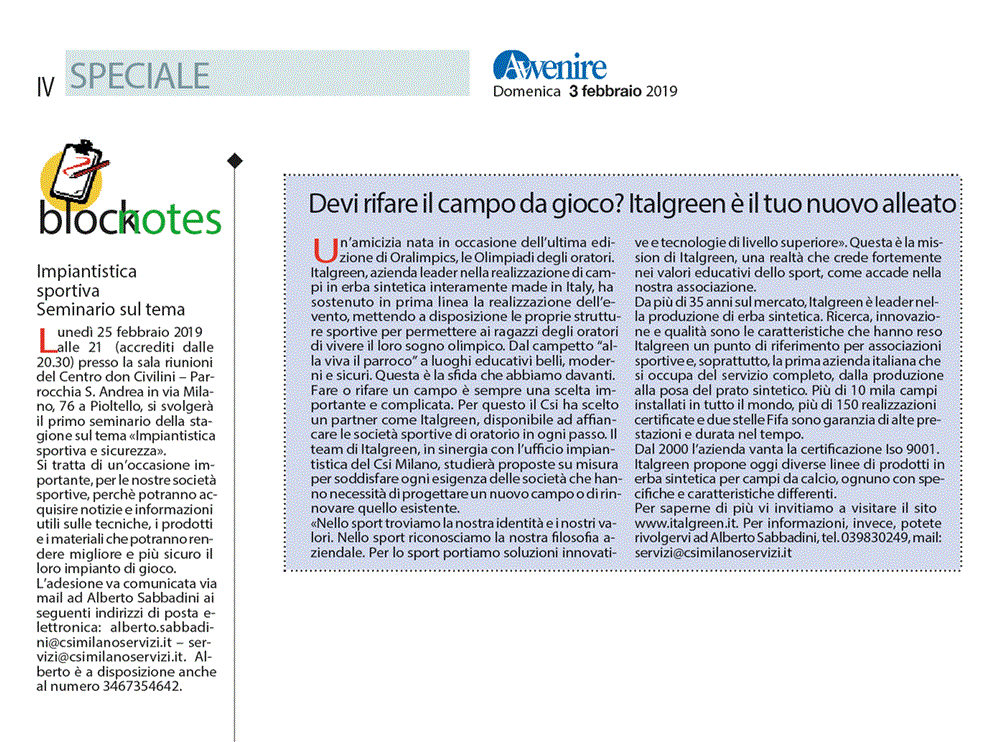 For over 35 years in the market, Italgreen is one of the main synthetic turf manufacturers for football fields, synthetic grass for rugby fields, synthetic grass for tennis courts, synthetic grass for padel courts, synthetic lawn for gardens and artificial turf for terraces. Research, innovation and quality are the characteristics that have made Italgreen a point of reference for sports associations and, above all, the first Italian company that deals with the complete service, from production to laying of synthetic grass. More than 10 thousand fields installed worldwide, more than 150 certified realizations and two FIFA stars guarantee high performance and durability.
Italgreen, in fact, dedicates an important part of the production chain to an accurate testing phase of finished products, which allows to achieve the perfect correspondence between customer expectations and current regulations. Since 2000 the company has been awarded the ISO 9001 certification, based on customer satisfaction, which allows us to incorporate customer needs and propose ad hoc solutions. As a result of this constant research, Italgreen offers today several lines of synthetic grass products for soccer fields, each with different specifications and characteristics.
For information:
Alberto Sabbadini
039 830249