First year of synthetic turf at the new Arena da Baixada
Thursday , 26 January 2017
A year marked by great sports events and scenic performances thanks to Italgreen's synthetic turf.
A summary of 2016 for the Arena da Baixada stadium, an exceptional venue for the Brazilian public who appreciated Italgreen's exceptional intervention Here, the synthetic turf mantle installed by Italgreen has substantially helped making this football stadium the most modern in Latin America and one of the world's best, the home of Atlético Paranaense.
In this context, Italgreen has created its 62 Lesmo HD Geofill N system: in addition to making the synthetic turf mantle look absolutely realistic thanks to its aesthetic peculiarities, its Geofill® N infill ensures performances that can satisfy even the most demanding athletes.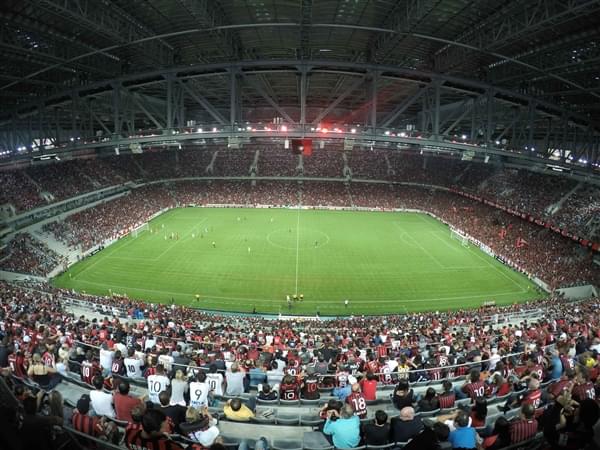 The Curitiba stadium seats 50,000 spectators and is the country's most functional and modern stadium. It has obtained a FIFA Quality Pro certification, recently renewed, and hosted the most exciting matches of the year as well as much-expected events. The UFC event in May (the world's most authoritative fight championship) and the Brazil x Portugal male volleyball match for the Rio 2016 Olympics, where the Brazilian team won a gold medal in September, are just a couple of examples that illustrate the new versatile aspect of the stadium.
Today, thanks to the extraordinary performance of Italgreen's synthetic turf, a year after the restyling of the stadium, Arena da Baixada is still an ultra-modern structure that can be used all year round, without ever damaging the playing field. With this important project, Italgreen has once again contributed to the urban development of this Brazilian metropolis, ensuring an authentic spectacle without peers to athletes and spectators alike.