Choose Italgreen for your artificial turf rugby field
30 players for games that last more than 80 minutes: there is no doubt that rugby fields are among the most stressed. Thus, the turf must be resistant to intense pressure and, at the same time, enhance the playing experience. Italgreen's solution: artificial turf rugby fields!
Creating an artificial turf rugby field is the only way to have a perfect playing field that can be used throughout the year, which does not affect game performance and, on the contrary, prevents problems encountered with natural grass fields, such as:
the formation of mud and puddles caused by bad weather
blades of grass damaged by continuous treading
The advantages of an artificial turf rugby field
Rugby puts the field to the test. It is not uncommon that teams playing on natural grass are forced to suspend games regularly to keep the field in acceptable conditions. An unusable field is not a good investment.
However, this situation can be easily solved by using an artificial turf rugby field, since it:
can be used 365 days a year
is perfect in all climatic conditions because, in case of bad weather, the draining systems prevent the formation of mud and puddles on the field surface
requires little maintenance with consequent cost savings
optimally absorbs shock thanks to a Prodrain anti-shock draining underlay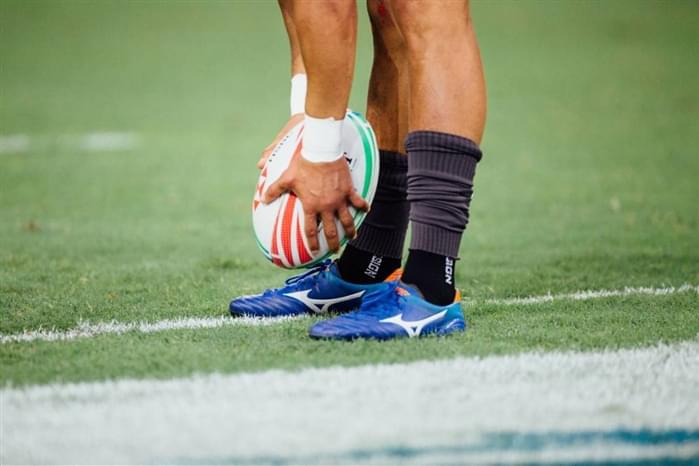 What is the best rugby artificial turf?
Italgreen is one of the main synthetic grass manufacturers, in fact we offer three main types of rugby artificial turf, all approved and endorsed by the IRB (International Rugby Board) and Italian Rugby Federation: DOUBLE 4, DMX and All Star.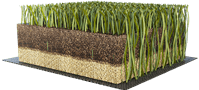 DOUBLE 4 with cutting-edge performance thanks to the blades of grass characterized by a double diamond shape, which gives the lawn resistance and high elastic memory. It is a two-colored lawn, completely similar to a natural grass, which guarantees:
perfect foot support and torque
shock absorption and return of energy needed for momentum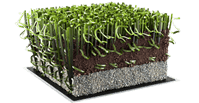 DMX is made up of a special monofilament grass fiber resistant to UV rays, frost or continuous foot traffic because they can immediately return to a vertical position. DMX is a synthetic turf suitable for rugby because it:
is as soft as a natural field and does not cause abrasion in the event of a fall or sliding of the athletes
has greater elastic memory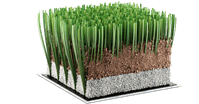 All Star has a net height of 52 mm and is made up of a special fiber with four combined and bonded sections that create, among other things, reinforcement capable of retaining the infill performance. This lawn:
has optimal reflectance and slipperiness indices
absorbs shock and returns energy
allows for perfect foot support and torque
Who has chosen Italgreen's artificial turf rugby fields?
Our expertise in artificial turf has resulted in collaborations with national and international teams and federations for which we have installed artificial turf rugby fields.
A few examples
We have created the IRB certified Bessa Boavista stadium in Portugal and the stadium for the 2013 European Rugby Championship.
Choose an artificial turf rugby field