Chiavari, stadium renewed thanks to synthetic turf
Monday , 20 February 2017
New synthetic turf football field
Located exactly in the centre of the magnificent Tigullio Gulf, facing the Ligurian sea of the Riviera di Levante, sits Chiavari, 27,398 inhabitants, third Ligurian city of the metropolitan territory, after Genoa and Rapallo.
Italgreen landed in this beautiful context to install the new synthetic turf football field of the city stadium in the town of Caperana. Inaugurated last year, this is a rebirth in all senses, works that were concluded in an important neighbourhood of the city of Chiavari.
To remake the surface layer, Italgreen installed its 62 Double 4 GC, which will be submitted to LND tests in a few weeks to obtain a national LND Professional approval. An important milestone for the city stadium, which, thanks to this redevelopment, will return to its old splendour and will be able to boast one of the best synthetic turf solutions in terms of aesthetic and structural quality. The special combination of many yarns of Double4 guarantees excellent technical characteristics. The yarn has a marked two-colour scheme and a special mix of yarns that recreate the effect of a natural field in perfect conditions, to the eyes as well as to the touch. This Italgreen product passed wear and UV ray deterioration tests with flying colours, making Double 4 a great ally with exceptional durability.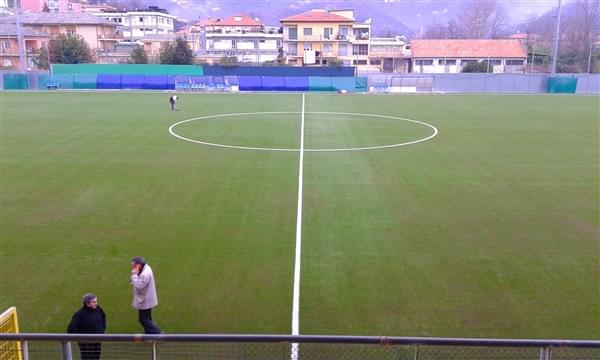 A stadium in the service of the territory
Remaking the mantle, redeveloped in synthetic turf, and the tribune are an important opportunity for the many youths of the town and neighbouring cities, which can train and have fun at a fully efficient stadium. The city's administration is enthusiastic about the new latest-generation synthetic turf mantle, which will allow the stadium to host high-level young teams, including Virtus Entella (whose main team now plays in the B Series), the amateur association Chiavari Calcio Caperana, who can train and play all matches in a field that matches their football levels.