At the start LND eSport Road Show 2k20
Tuesday , 29 October 2019
Italgreen technical partner
The LND is launched on the virtual front and continues to "educate by playing" through a project devoted to social inclusion and training.
At the start of the new initiative organized by the National Amateur League to involve young people with disabilities.
COLLABORATION
Also in this case Italgreen is there to give its contribution in support of an unusual and different initiative to involve young sportsmen and enthusiasts.
Sporting loyalty, respect for the rules, social solidarity are the common denominators that unite us with the LND, so we decided to give our support to a project that talks about another football, not the one played with the ball, but the "videogame" one which must not necessarily be seen as an enemy that drives away the members of the camps, but rather, as a potential ally.
LND has decided to bring virtual people who for different types of impediments look for a way to socialize and be equally included. The aim is to eliminate barriers, distinctions and make these people an integral part of the national sport par excellence. So everyone can experience the true team game and those who normally practice this sport in person can now test themselves in front of the monitor, make new friends and find new ways to face competitive spirit, experience team sports and evaluate their own capacity.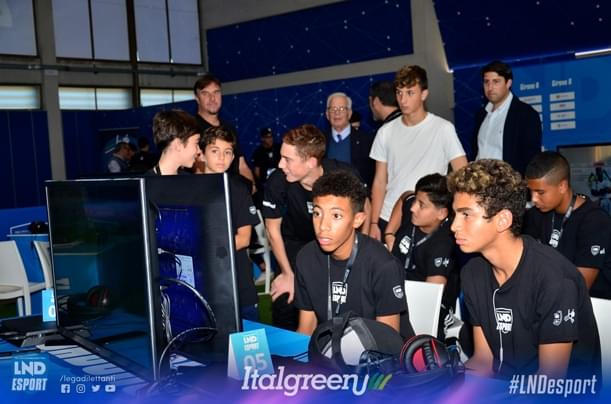 THE DETAILS OF THE EVENT
The first stage of the 2k20 Roadshow was held in Coverciano (FI) on Saturday 26 October. Boys and girls played football, but not on a regular playing field, but on a Fifa 2020 tournament to spend a day in the name of clean sport and inclusion. We, for the occasion, have created an area of ​​synthetic grass of 150 square meters where the positions of the egamers who challenged each other by joypad were positioned.
It was a great "full immersion", during which the participants had the opportunity to also visit the "Football Museum". Participants included not only young egamers, but also industry professionals, academics and representatives of the LND. Goal of the day: to lay the foundations of this project with a strong social resonance to make it take off and improve stage by stage. Numerous sports clubs have already registered for tournaments that will take place during the next stages of the tour. We'll be there!