Artificial turf that drains for landscapes and sports fields
Friday , 18 November 2022
Are you looking for an artificial turf that drains for your garden or for the construction of sports fields and want to be sure to choose a high quality product? Take a look at Italgreen's proposals.
Choosing the right lawn to make an artificial turf that drains for your sports fields or garden can be complicated if you are not an expert in the field. Italgreen is at your service to help you choose the best solution and get an excellent quality product.
Make your own artificial draining garden turf with Italgreen
With Italgreen you can create an artificial turf that drains to make your garden look flawless.
Here are the solutions available to give you an excellent quality garden:
Dreamy Natural look, composed of a mix of colors to recreate the same visual effect as natural grass;
Fine Soft touch, designed to give you an extremely soft turf that is also perfect for pets and children.
All of our artificial draining turfs of the Landscape line are the result of extensive research and development work that has led to a number of particularly relevant advantages, in fact they:
do not require irrigation;
resist chemicals, UV rays and fire;
are odorless and nontoxic;
are resistant to trampling and tearing;
do not require maintenance;
resist the passage of vehicles and are suitable for animals.
Artificial turfs that drain for sports fields by Italgreen
With Italgreen you can make artificial turfs that drain for sports fields that can be used all year round, even in the rainiest seasons. This is possible precisely because, unlike natural turf, synthetic ones avoid the formation of puddles and mud.
Let's look at the main proposals available according to different sports disciplines:
Soccer and rugby
For soccer and rugby, the ideal artificial turf is characterized by textured monofilaments generally bi-, tri-, or four-color that can also have two or more different shapes. Turf heights range from 30 to 60 mm.
For these sports, Italgreen offers: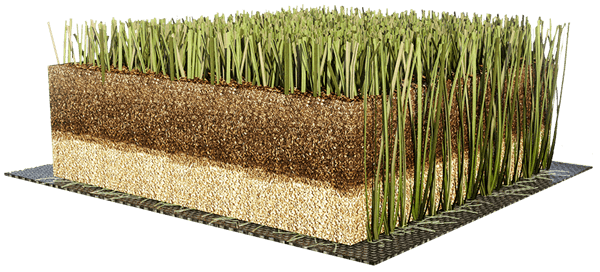 LESMO 3S: thanks to this turf, excellent levels of ball bounce and glide and also complete shock absorption can be achieved. Foot support and torsion are optimal to ensure quality playing performance. Lesmo 3S is available in TRICOLOR and TRISHAPE versions (three colors and three shapes);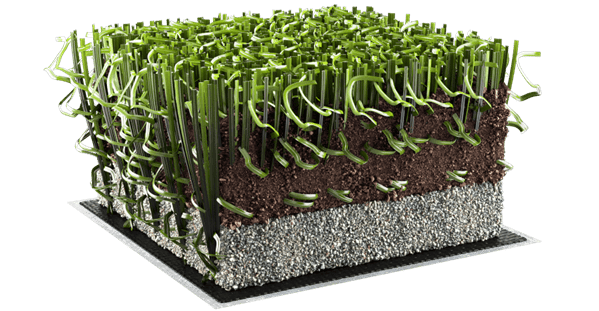 ALL STAR: features a diamond shape to give resilience and a high-strength "S" shape for greater comfort. It greatly reduces the coefficients of abrasion and light refraction, giving excellent playability and better aesthetics;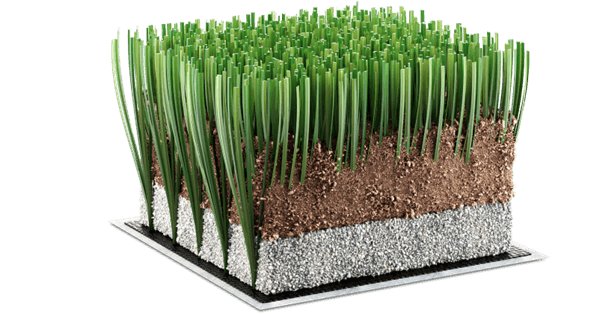 DOUBLE X: this turf features a double diamond shape that provides superior elastic memory. The ultra-high double thickness also makes this artificial turf more resistant to playing stress, UV attack and frost.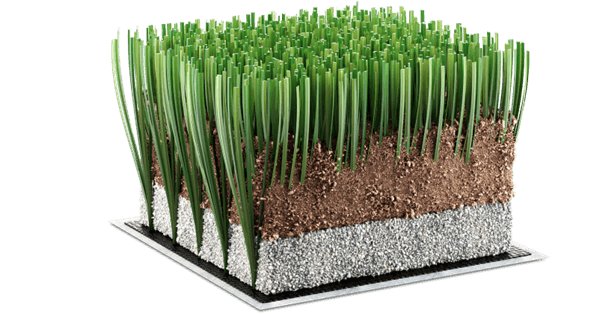 DMX: this synthetic grass is composed of a monofilament that is particularly resistant to weakening by UV rays and frost, thus ensuring greater durability. The double green color also gives a more natural effect for better aesthetics.
Padel
Regarding padel, Italgreen offers two specific types of artificial turf: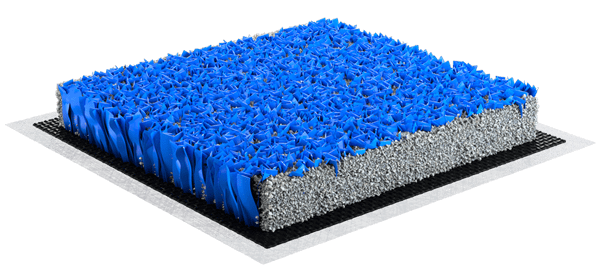 14 PADEL: is a single-color fibrillated yarn with a height of 12 mm and characterized by maximum playing speed and better lateral glide. Due to the high elastic memory, the fibers immediately return to vertical position after treading;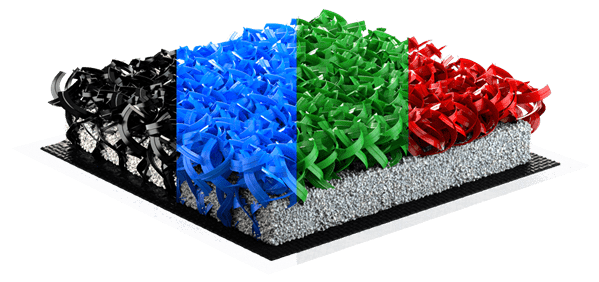 12 PADEL PRO: this synthetic turf is undoubtedly the most popular for the sport. It is a 10 mm single-color textured monofilament that holds the infill better and provides perfect ball bounce and natural foot twist and grip. 12 Padel Pro has been chosen as an official product by FIP.
Learn more about our padel courts
Tennis and futsal
Mats suitable for tennis and futsal are very similar to those for padel. They tend to be low, with a maximum height of 20 mm and can be either fibrillated or textured monofilament.
In this case, the artificial turf recommended by Italgreen is GREEN HD, characterized not only by high technical performance, but also by excellent versatility.
In addition to being perfect for tennis and futsal, in fact, GREEN HD is also optimal for multipurpose synthetic tennis, padel and futsal lawns.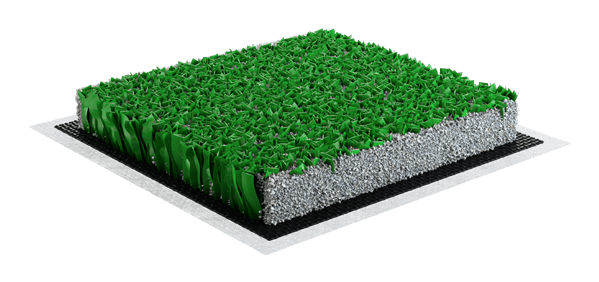 Golf and Hockey
Golf and hockey require the use of very low and dense turfs so as to perfectly recreate the natural terrain in terms of ball sliding and bouncing. In particular, for hockey a fibrillated or textured turf or "Sandbase" type (i.e., clogged with sand up to the coverage of the yarn) or "Waterbase" (in which the ball slides on a light layer of water present in the synthetic turf) tends to be used, depending on the customer's requirements.
Just according to the specific requirements, Italgreen studies and implements customized solutions.
Artificial turf that drains, but not only: all the advantages of artificial fields
Choosing an artificial turf that drains by Italgreen is advantageous because:
It resists trampling and deterioration due to the action of ultraviolet rays;
It is easy to clean with simple hand brushes or special machinery as needed;
It requires low maintenance compared to natural grass fields;
Is composed of high quality polymers specially designed to cause the wire to return to an upright position following trampling;
Absorbs shock, returns energy and provides optimal ball bounce to ensure excellent playing performance, in the case of sports fields.
Choose experts to make your artificial turf that drains