Synthetic Turf Suppliers
When it comes to enhancing your outdoor spaces, synthetic turf offers a world of possibilities. Italgreen proudly stands as one of the main synthetic turf suppliers, dedicated to transforming your sports fields or private garden into a vibrant, sustainable, and low-maintenance masterpiece. With a wide range of synthetic turf options and countless advantages, we are your trusted partner in creating your evergreen oasis.
On this page, we delve into:
Italgreen is the synthetic turf supplier you are looking for
For over three decades, Italgreen has stood at the forefront of synthetic turf technology. Our journey into this field began in the early 1980s, coinciding with the inception of this groundbreaking technology. Over the years, we have pioneered the development of many high-quality artificial turf products, becoming one of the main synthetic turf suppliers.
We take pride in our achievements, including:
The installation of more than one-third of the LND-approved synthetic lawns in Italy
The pioneering design and construction of the first synthetic turf field for a Serie A (Premiere League) team in Italy, setting new standards in professional football
The creation of the first 100% recyclable fields approved by FIGC (Italian Football Federation) and FIR (Italian Rugby Federation), underlining our eco-conscious approach
The landmark design and construction of the first synthetic turf soccer field in the top tier of Brazilian football, expanding our influence on a global scale
At Italgreen, we believe that every project is unique, and our legacy of innovation, sustainability, and customer satisfaction is our main priority. Whether you are a homeowner looking to transform your garden, or a sports facility manager in pursuit of the perfect playing surface for your sports field, we have the solutions you need.
Our range of synthetic turf
As a synthetic turf supplier, we offer an extensive range of artificial turfs, each designed to cater to different requirements and preferences. Let's discover some of our exceptional turf varieties.
Synthetic turf for sport fields
We produce a wide range of sports turfs, designed to fully meet the needs of soccer, padel, rugby, tennis, golf, and hockey.
Here are some of our best products:
Double X – This is our advanced double-diamond synthetic turf that offers exceptional resilience and durability, thanks to its innovative design and robust construction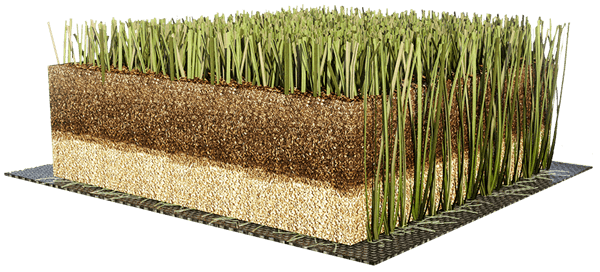 Lesmo 3S – Italgreen's innovative football turf, Lesmo 3S, merges Double 4 and Lesmo HD to deliver a tricolor and tri-shaped marvel, setting new standards in synthetic turf excellence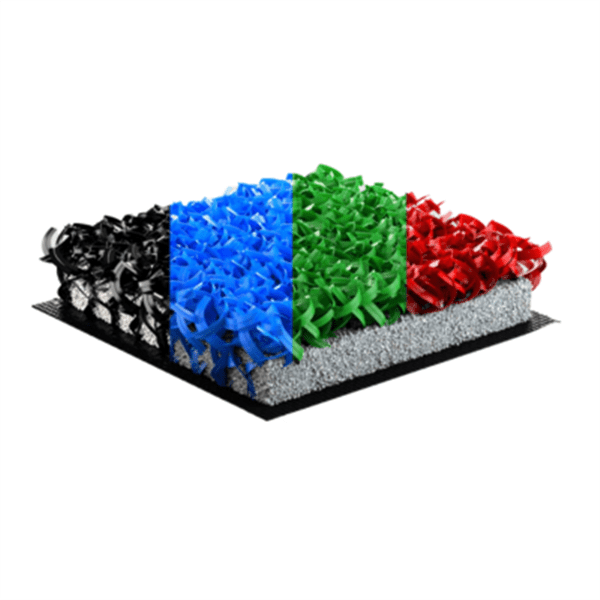 Padel Pro and Padel FIB – They are FIP's official padel court turfs and offer supreme comfort and aesthetics. Their resilient textured polyethylene fibers (10 mm for Padel Pro and 12 mm for Padel FIB) ensure durability, UV resistance, and excellent ball rebound.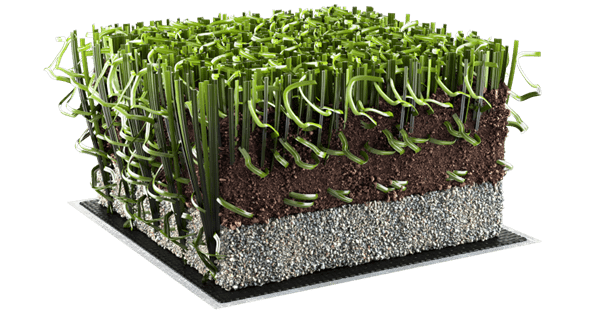 All Star – This synthetic turf comprises four unique fiber sections with ESENE C6 polyethylene polymers for durability and heat reduction. It provides a natural appearance, low abrasion, and excellent playing characteristics.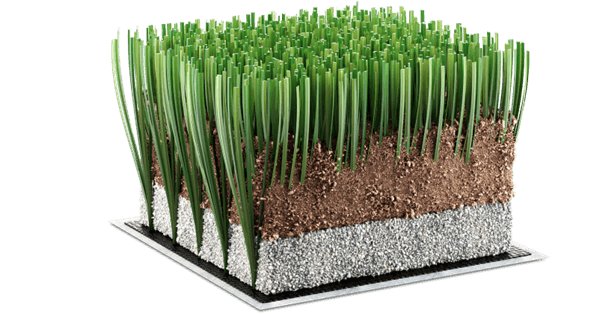 DMX – This turf offers UV and ice resistance. Elongated diamond-shaped fibers ensure quick recovery after foot traffic, providing ideal ball performance and player grip, while the two-tone green mimics natural grass aesthetics.
Discover more about our products and find out why we are the right synthetic turf supplier!
Synthetic turf for private gardens
Italgreen extensively researched natural grass varieties to recreate them seamlessly in their synthetic turfs for landscapes, offering options that suit your preferences.
The aesthetic quality of Italgreen's turf is exceptionally high, as our Landscape synthetic lawns closely resemble natural grass, making them nearly indistinguishable.
Choose from a variety of synthetic landscape turfs, like the Fine Soft Touch for a luxuriously soft feel, or the Dreamy Natural Look for a realistic lawn in both shape and color.
All the advantages of artificial turf
Choosing Italgreen as your synthetic turf supplier comes with so many advantages:
Low Maintenance - Unlike natural grass, synthetic turf doesn't require mowing, watering, or fertilization. This translates to significant time and cost savings while keeping your landscape green and inviting
Durability - Our synthetic turf is engineered to withstand heavy foot traffic, harsh weather conditions, and the rigors of sports activities. It retains its vibrant color and texture, ensuring a long-lasting, attractive appearance
Sustainability - Italgreen is committed to sustainability. Our synthetic turf products are eco-friendly, conserving water and reducing the need for harmful chemicals
Versatility - Synthetic turf is incredibly versatile and suitable for various applications. From sports fields to residential landscapes, it adapts seamlessly to different environments, enhancing aesthetics and functionality.
Looking for a synthetic turf supplier? We are ready to help you!